Tonight we're back with an ALL-NEW BEST SHOW!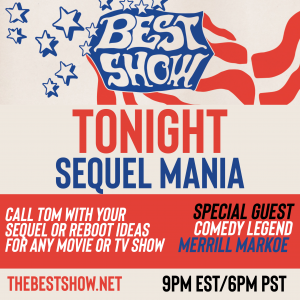 TONIGHT'S TOPIC:
SEQUEL MANIA!
Do you have an idea for a movie or TV sequel or reboot?! CALL TOM tonight (201-332-3484) and together, you'll turn it into pure Hollywood GOLD!
Tonight's special guest is the legendary comedy legend MERRILL MARKOE! She'll chat with us about her new graphic novel, "We Saw Scenery."
Tonight's hashtag is #SequelMania
You can listen live at TheBestShow.net and then download the podcast the next day on iTunes or your RSS feed or wherever!